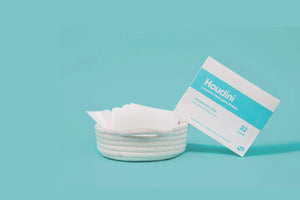 Magical Cleaning
without the Yuck.
Simple & Effective
Tough on stains
Houdini Detergent is tough on stains and keeps all of your dirty clothes clean while not being so tough on the planet.
Shop Laundry
It's time you switched to the light-er side.
You Can Even Bathe in it
Safe Ingredients
We never use chlorine, parabens, phosphates, or added dyes in any of our products. We also make it hypoallergenic.
Shop Laundry
Don't take our word for it
★★★★★

I'm beyond blown away. I can't believe this little strip did better than my tide lol. This really is magic. Laundry days are easier than ever!

★★★★★

I used to use dropps monthly but now switched since these take up much less space. There's literally no reason for pods with the liquid. A strip is all I need and these clean my clothes even better.

★★★★★

I was pleasantly surprised to find an environmentally friendly detergent that is as sensitive to my skin as it is to the environment. Just throw it in the wash and it's ready to use in just a few minutes, without the need for additional laundry.

★★★★★

This works even better than the Tide that I was using for years. This makes my clothes feel and look better!

★★★★★

I am very pleased with the results. Everything from the packaging and the delivery, to the actual detergent and how it cleans my clothes effectively.

We're Rated 5 Stars for a reason

Follow us @HoudiniCare and #MakeTheSwitch